Now a days there are great options for reusable diapers. Brands like Bumkins make it cool and funky to have reusable diapers. We carry the fitted cloth diapers form Milano.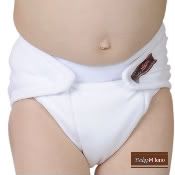 Baby Milano's Fitted Cloth Diapers not only have a super trim fit, they also have a super absorbent core. The diapers are made with 100% cotton, double fleece and an ultra thin absorbent core which gives the diaper a trim fit.

The adjustable hook and loop closure enables a snug fit around the tummy and legs. The elastic around the legs not only helps with the fit around the legs, but it also contains the messes.

The diaper's unique core is composed of 4 layers of super absorbent, yet ultra thin fabric that is made from our special blend of viscose and polyester. For durability and comfort, the outer layer is made of 220 GSM cotton.

The inner layer is made of a soft double fleece, which helps wick the moisture away from the baby's skin and helps to keep the baby dry and comfortable. The diapers also have a soft cotton binding around the legs and back to protect the baby's delicate skin and to cup diaper messes.

Five Tips for Diaper Use - Disposable vs Reusable

Choosing the right type of diaper for your baby is a personal decision. Here are some tips to help you make the right choice for your family:

1. It is easier to determine when a reusable cloth diaper is wet.

2. Babies using reusable cloth diapers tend to have less diaper rash.

3. Today's reusable cloth diapers have snaps and Velcro fasteners and pleasing patterns for baby.

4. As far as the environment goes, disposable diapers generate a lot more garbage, while the washing and drying of reusable cloth diapers generates the use of electricity.

5. With either type, have wipes or a clean washcloth, diaper ointment and a changing pad all ready for the diaper change.